The Choraliers Go "Back to Our Roots"
EHS Choraliers took to the stage for the first competition of the season at Northrop High School in Northrop, Indiana on Saturday, February 4. The "Back To Our Roots" show was awarded 4th place overall.  
Freshman Amelia Harris experienced her first-ever competition. 
"It was really stressful but once I got on stage with the amazing people that I dance with, it all went away," Amelia said.
Junior Nora Current was encouraged by the first competition results. 
"We did pretty well trying to step up our game a lot because the past previous year we have been the underdogs," Nora said. "We have been good but not how we want. We had a bigger group this year."
Senior Jewely Downie experienced her first competition this season."
The whole day was really fun and everyone was excited to be there," Jewley said.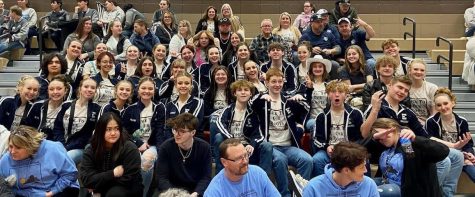 While the Choraliers were so excited for their first competition, they often had to juggle a very full schedule just to get to the competition weekend.  
"My schedule is very busy especially because I am also a cheerleader so I have lots of late nights." Amelia said.
Amelia explains her routine at competitions.
"I do my makeup sitting on the floor with my friends and we all help each other with our hair, then we all take a minute to calm down and we get dressed and it's 'dance time,'" Amelia said
Amelia says that her family is her biggest motivation while on stage.
"When I'm on stage I look for my family in the crowd and look at them like they are the only people in the crowd," Amelia said.
"Being a part of the Choraliers, you make new friends and get closer," Amelia said.
"I am so close with the Choraliers. They are all such amazing people and really helped me when I was starting high school. Each and every one of them has helped me in ways that I can't describe," Amelia said.
Jewely believes this has been a great year for the group.
"I have connected with all members of our group. We have really made a dedication group this year," Jewley said.
 The EHS Choraliers won Grand Champion at the Hamilton High School Double H competition on March 4th.   The last competition will be at Marysville High School on March 11th. They also have their Cabaret on March 31st and April 1st.