Meet "Donna and The Dynamos!"
"Donna and the Dynamos," a trio of best friends in an all-girl band, were played by junior Nora Current, sophomore Jeida McGee, and senior Hailey Hall, in EHS's recent production of "Mamma Mia!"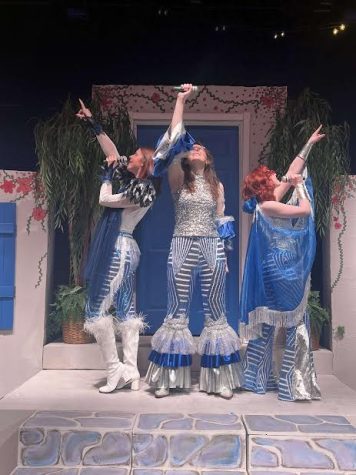 Nora played Donna Sheridan, a hard-working single mother who manages a hotel. Nora said her character interprets herself on stage, and you understand her more as the musical goes on.
Hailey played Tanya Chesham-Leigh, a rich three-time divorcee. Hailey said while playing Tanya, she had to be "very mysterious at times and own being a woman."
"She knows what she wants and she takes it," Hailey said.
Jeida played Rosie Mulligan, a feisty and witty cookbook author. 
"She's a little silly and all around not here for a long time but here for a good time," Jeida said.
While playing Rosie, Jeida tried to be very "nonchalant with everything."
"She's very much a part of people's worlds but more of just constantly judging them in a positive way," Jeida said.
Jeida said the role tapped into a darker side of humor she didn't know she had in her.
"It's nice being able to play it with people who are willing to push, like, the norm of acting," Jeida said.
Nora loved having her "emotional garbo" as she called it, which is when Donna sings three emotional songs back to back.
"It's terrible but I love it," Nora said.
For some performers, memorizing lines and lyrics can be tricky. While Nora agrees this was a challenge, she brought up another obstacle she had to overcome.
"I also have to have chemistry with the other cast members all at the same time," Nora said.
Hailey thought portraying the character, "the way that it is supposed to [be] while adding your own spin to it and making it your own," was a challenge.
Jeida found the music of the show to be troubling.
"With Rosie, she takes the alto line for the harmonies and I didn't realize alto lines could be so difficult sometimes," Jeida said.
All three girls commented on the wonderful chemistry they had. Hailey was pleased with the casting choices.
"When I found out that the three of us were casted as the dynamos, I was very excited because I knew we would be able to have good chemistry on stage just because of who we are off stage," Hailey said.
Nora loved being on stage alongside Hailey and Jeida.
"We are besties and giggly on and off stage," Nora said.
Jeida loved being able to have this connection with the girls.
"With my Dynamos it's great, I think it's perfect," Jeida said. "I feel like we rock on stage and then when we get off stage we just act like buddies and pals like on stage."