Edgewood Drumline is a Success!
Drumline has had such a successful competition season this year. They won best percussion three times, best overall band two times, and best auxiliary two times. They have all worked so hard to get to where they are now. They have been invited to state once again to compete for the number one spot. 
Kenny Greer says, "The thing that makes every year so good, is all the friendships and inside jokes with the band and drumline. I've always loved how the drumline has felt like a family ever since I joined. This year in particular for me I've always wanted to be section leader and I accomplished that this year." Kenny is the section leader and has played the snare drum for four years now. Being a section leader is a lot of responsibility and Kenny decided that he would love the opportunity. He says, "As the section leader I need to be the leader of the drumline and help musically whenever I can. A responsibility I don't think most people know is during a marching band show, the drum majors (conductors) will look at the drumlines' section leader for the tempo. They watch my feet which gives them the tempo for the show." He says it's a lot of work but it's always worth it and super fun.
Although the drumline has done very well this year there are always ups and downs. Kenny says, "Every year there is turnover from people graduating so it takes a lot of effort from everyone early to sort of makeup for that." People graduate, and you lose them from the team, but then you will have to work harder to regain the missing people. The Drumline does a fantastic job at doing that. They work hard and always have fun together. As Kenny said, he's always felt like the drumline is family to him ever since he joined. "I'm extremely proud of what the drumline accomplished this year. We obviously wanted to go undefeated, but we played very well at that comp so it is what it is." He is very proud of the drumline and all that they have accomplished together as a team throughout the season. "I would have to say "Juice Box", that is the name of our cadence. It's really fun to play, and my tap-off is really fun." Juice Box is Kenny's favorite tune to play. Kenny has had a lot of experiences through drumline and has enjoyed every part of it.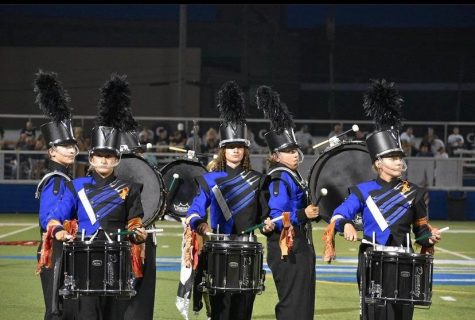 Interacting with the student sections during chants, and playing in the hallway was Robert Eggebrecht's favorite part about being in the drumline. Robert is a sophomore and he has played the bass drum for two years now. He plans on continuing his high school career with drum line for the next few years. "What made me join was watching somebody else play tenors. What's so special about it is that it's the melody of the drumline. It has a rhythm." Robert got the influence by watching a former tenors player at Edgewood High School. "We were looking really strong going into the eighth competition, going undefeated throughout the seventh. We had our best run in the eighth competition, and we were disappointed by our results because we did not think they were accurate. It's disappointing but we learn to grow even more from that." Even though the outcomes may be different, the drumline learns to grow from every outcome, good or bad. "We kinda decreased honestly in numbers, we used to have a big drumline and percussion sections and over the years people are slowly not interested in joining because they don't want to put in the effort and don't want to make sacrifices to get to the fun part." Edgewood high school's drumline has gone from a big number to only seven this year. Their numbers have gone down but their quality of music has not.
Mr. Nick Fields has been a part of the band and percussion direction for fourteen years, and he says that teaching music is rewarding not only does he get to teach what he loves each day, he gets to watch his students form their own passion in music and learn to love it as well. He says, "The students I have in the Edgewood Percussion section, I have been teaching since they were in 6th grade. I am able to watch them grow as young adults AND musicians. We are a very close group and they always rise to the level of expectation presented to them." Mr. Fields is always very proud of what the drumline has done over the years. He loves to watch them proceed to overcome challenges in music and in life. Throughout the years, the work ethic has not changed and the drumline is consistent and has gotten cleaner at a higher level as the season progressed. Drumline has gotten better as the seasons get harder and harder. Drumline keeps achieving higher goals in each competition.
Mr. Fields says, "In any team activity, and marching band is 100% a "team" activity, if you don't have EVERYONE on board from the beginning, it can cause hurdles and issues with progress throughout the season. The "toxicity" can spread and soon can have a group that loses sight of their goals and passion. Successful groups I've taught have everyone on board and everyone focused on their personal and team goals throughout the season from day 1. "This is very inspiring and good advice to look forward to as drumline ends its season. Drumline gets through hard times and grows as a team by working together and overcoming the "toxicity" in their group.
 "If you enjoy drumming, working hard, and having a close-knit group of friends, join percussion or marching band. It can be intimidating at first but ask anyone that has done it for a couple of years. They will not regret it." says Mr. Fields. Mr. Fields's favorite memory in drumline is that "we have had a few years during marching band season in which we have gone undefeated. Those years, the members never quit working, it's so rewarding to grind and grind and then get the success that comes with that hard work." Drumline and marching band have worked so hard this season and Mr. Fields is so proud of what they have accomplished so far. The drumline and himself are so excited to reach new heights as they finish their season off.
Best of luck to the drumline as they head to state at Piqua High School on November 6th!