D1 Future Ahead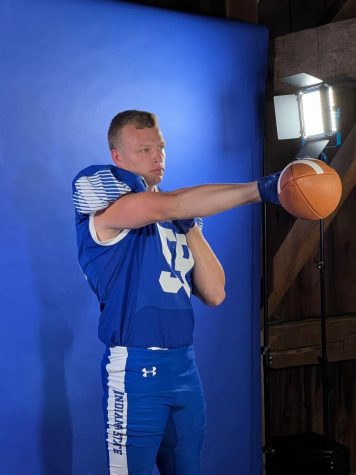 Edgewood senior Mason Green, long snapper and defensive lineman for the Cougars football team, committed to Indiana State University, a Division 1 college, in late August of this year to continue his athletic and academic career. This makes him one of few to ever go D1 out of Edgewood. 
Wearing #59, Green has had 17 tackles this season, 4 were solo. He has been playing football since he was in kindergarten and has attended Edgewood City Schools his entire life. "It's been my dream for forever and I've been working at it for 12, 13 years so it's a big accomplishment for me," said Mason, "I feel really good about having the opportunity to play D1 ball."
A long snapper is often both an important and underappreciated player on a football team. Casual fans may overlook a player who can snap the ball between 7 and 15 yards consistently and accurately, but a trained eye will see the immense value a player like that can offer.
Indiana State has won three National Championships in football; one NCAA team championship, one NAIA team championship and one USBC title. "I'm definitely in love with Indiana State, in love with their campus, the school and the coaching staff. But at the same time, if I could get an offer from a 'Power 5', I'd definitely take it," Mason remarked. 
Mason plans to study applied medicine in college. "It helps me in the long run and in paramedic school," he said. Mason's dad, Matt, has been a firefighter for Union Township for more than 20 years. "I plan on being a fireman like my dad and brother because I've looked up to my dad since I was a little kid." 
Mason is listed as 5'11" and 190 lbs. His build gives him the opportunity to play not only many positions but many sports. However, Mason chose football. "Because I've always liked the contact. I like the physicality. It's not everyday you get to hit someone as hard as you can lay them out, but in between the lines of the field, you can," said Mason. 
But, Mason did however suffer an injury to his hand early on in the season. "Inside run in practice and I was on defense. I went to make a tackle on a backer and my hand ended up in his face mask getting bent back and it kinda just snapped," Mason remembered. "(The) Worst part was I could hear it snap and I stayed in for 5 more plays."
After his injury, Mason was worried about his opportunity. "I was pretty worried but I called the coach who recruited me and told them the situation and they were okay with it and still confident in me."
Heading into his senior season with a hurt hand wasn't ideal. "I was sad because at one point it looked like I might need surgery and it looked like my season was over. I avoided it and I lucked out. I was worried though because it's my last year of high school and it felt like it was a wake up call. I was humbled, because some guys aren't so lucky," Mason said.
While looking forward to the remainder of his season, Mason is also very excited for his upcoming college season. 
Mason is incredibly excited for his future at Indiana State University and can't wait to see what the next four years hold. "I'm extremely grateful for the opportunity to play at Indiana State and I really wanna say thank you to the awesome coaching staff I've had for the past four years. Thanks to my dad especially who pushed me to work harder and be better, even when I didn't think I could do it," Mason credited.