Girls Lacrosse Looks for Winning Season
As the Cougar girls lacrosse team enters into its 2023 spring season, the team is very excited. With the addition of a new head coach, the team feels confident this season. Julie Reckart has been named the new head coach for the team.
The team was first introduced by former head coach Rick Urmie. He started building the program during 2019 but the first season was canceled due to the pandemic. The teams first official season began the spring of 2021 where the team went 3-6. 
Sophomore, Kamdyn Buck, a midfielder on the team is excited for the team's new coach and is anxious to see how the team does."I don't think our team will hurt from getting a new coach, and I think she'll be really beneficial to us this season". Kamdyn was one of the top scorers for the Cougars during the 2022 spring season.  
Junior, Maggie Henderson, an attacker for the Cougars, is very excited because she thinks the team is definitely going to do better this year. "I believe if all goes well with the new coaches our team will definitely improve and we can have a better record than last year, but we are pushing for a winning record," Maggie said. As team captain and leading draw winner at the midfield position, Maggie hopes to learn a lot of new things this season. "I feel as if we will learn all new plays, which will improve our team and allow us to win more," Maggie said.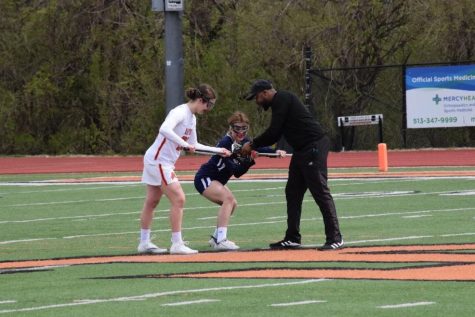 Coming off of a 2-10 record during the 2022 season, the team is looking to improve their record this season. "Our team definitely struggled last season with sharing the ball and putting it into play on our side of the field which is one of our major focal points during practice and preseason," Kamdyn said. The team will take on a tough opponent, Ryle High School, on March 18th at Kumler Field. 
Sophomore, Megan Brown, says the team will have a huge improvement in their record this year and is excited to get the season started."I think we will go 6-6 this year, with a new coach who pushes us to be the best and a tough schedule I think our season will be very good," Megan said.