Alumni: Where Are They Now?
After graduating from Edgewood, what does the future hold? Recently, some Edgewood Alumni shared what life has been like for them since graduation. 
Abby Felts: 2019 Graduate 
Abby Felts was an Edgewood soccer player and National Honor Society member who graduated in 2019. In the past few years, she's realized that she misses the small-town feeling of Edgewood, along with playing soccer, going to football games, and school dances. Felts says that Edgewood "impacted [her] future in several ways." Not only did it help shape her as a person and give her life-lasting relationships, but she also had teachers like FFA teacher, Mrs. Kellie Beiser, and science teacher, Mr. Ben Johnson who "helped prepare [her] for college and the real world." After graduating, Felts became a student at Miami University where she became a part of the GradU8 Scholars program. She also works two part-time jobs at Cincinnati Hospital Children's Medical Center and Target. While doing all of these things, Felts has been planning for her future and working hard to achieve her goals. She has two pieces of advice for current Edgewood students. First, Felts says to "do your best in high school… it may seem as if it's not worth it and it's draining sometimes, but I promise that you will be so grateful that you did when you graduate." Her final words of advice are to, "Soak up all of the time you possibly can. Enjoy the pep rallies. Go to the football games. Enjoy having lunch with your friends. Form good relationships with your teachers. Try out for the sport you have always wanted to. Spend as much time as you can with your friends and family. And most importantly, do not take any of these things for granted." 
Zach Apple: 2015 Graduate
Zach Apple graduated from Edgewood with the class of 2015. During his time at Edgewood he spent a lot of time with science teacher and swim coach, Mr. Ben Johnson, not only in the classroom where Mr. Johnson "prepared [him] well for [his] academic career in college," but also while training for his future swimming career. Since graduating, Apple has become a three-time world champion as part of Team USA's relays at the FINA World Championships and he is also the current World Record holder in the mixed 4×100 meter Freestyle Relay. He swam for three years at Auburn University and transferred to Indiana University his senior year where he won a Big Ten Team Championship and an NCAA title in the 400 medley relay while also graduating with his Bachelor's of Science in Exercise Science in 2019. Apple is currently still training and preparing for the Olympic Trials and the Olympics this summer. While he did "enjoy [his] time at Edgewood," he was also "happy for it to end when it was over because [he] was very excited for the next chapter of [his] life to start." For Apple, Edgewood impacted his future by teaching him "how to manage his time," which prepared him for college and professional life. In order to learn these same lessons, he advises current students to "use the time you have at Edgewood to learn things that will help you throughout the rest of your life. Ask your teachers questions because they have some very valuable life experience."
Tyler Began: 2020 Graduate 
Tyler Began is a 2020 graduate who was actively involved in both football and DECA. While being in DECA with one of his favorite teachers, Mr. Rocky Chasteen, Began was a two-time nationalist and won many competitions. He also won titles with the football team, where he was a three-time SWOC Champ and a captain his senior year. Out of school, he worked a part-time job at Superior KIA, where he was a Lot Tech. He still has this job, but he now also attends the University of Cincinnati where he is studying to become a Chemical Engineer. Began's original plan was to become a Mechanical Engineer, but his other favorite teacher, Mrs. Jessica Hollinger, taught a chemistry class that he "enjoyed so much that [he] ultimately decided he would enjoy chemical engineering more." While Began enjoyed his time at Edgewood, he was also "super happy when it was over, because [he] couldn't wait for college." After graduating and attending college, he decided he would like to advise current students to "not worry about high school too much, just have fun because the best is yet to come."
About the Contributor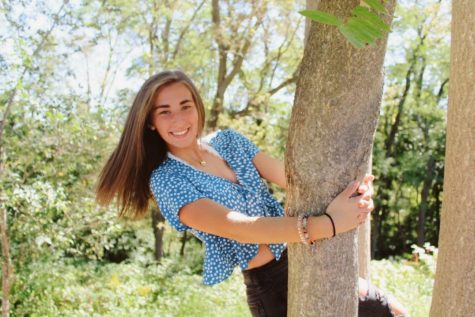 Gracie Simpson, Reporter
My name is Gracie Simpson and I'm a senior! I played four years of soccer at Edgewood and I've played club soccer for 11 years. Soccer takes up most of...