A Thank You to Chad Pergram from the Co-Editors-in-Chief
Cougar Prints thanks Chad Pergram for his generous donation!
March 30, 2021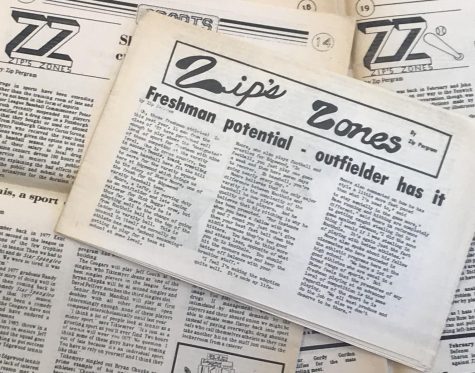 Welcome to our new website, Cougar Prints readers!
Created in 1971, Cougar Prints was a fundamental part of Edgewood, but the expenses of printing paper issues became too hefty, forcing the paper to discontinue their publications. Inspired by the student-run newspaper from his time at EHS, English teacher Mr. Heflin revamped Cougar Prints in 2018, but in a new digital format. Over these past three years, we have worked on improving the look and quality of our paper, bettering the articles we write and the overall structure, which included everything from article placement to the colors used.
Now, we are ready to move on to something better. 
With the help of Edgewood alumni and congressional correspondent for Fox News, Chad Pergram, we have made the leap towards creating our own site. Without his help, it is unlikely that we could've transitioned to our new platform and elevated our paper. Pergram generously provided Cougar Prints with a much-needed grant for us to kickstart our website and start focusing on generating money to keep this website running for years to come. 
This new website represents the continued growth of Cougar Prints as we've changed a lot these last three years, and we hope to continue blossoming and challenging ourselves to improve. We anticipate that moving onto this website will allow us to write longer, better quality articles since we are no longer limited on spacing as we were when we used Google Slides. In the future, both of us hope that Cougar Prints will move onto building more interactive elements on our website, which could include podcasts and uploading video-recordings of our interviews. We are honored to be a part of this new chapter for the Cougar Prints, and we look forward to seeing how it progresses beyond our time at Edgewood High School.
Cougar Prints is already a living, breathing part of Edgewood, but we want to make a larger impact on our community, and we think this new change will help us do that. The staff of Cougar Prints is excited for you all to interact with our website, and we want you to enjoy this new change as much as we have enjoyed creating for you! 
Once again, we cannot thank Chad Pergram enough for his generous donation, giving us the chance to jump on this long-overdue change for Cougar Prints! 
Enjoy reading!
Josie and Laney