Fashion Snag: Prom Edition
Seniors Jaylen Patrick and Camryn Stewart completed the difficult task of purchasing a prom dress, having to overcome obstacles such as staying within a good budget and not accidentally matching another student.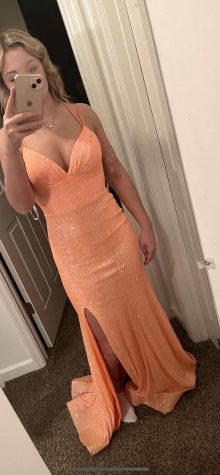 When the students go looking for their outfits, they often have an idea or certain fashion style in mind. Jaylen had a specific style she was looking for when she went shopping. 
"I wanted it to have the back open," Jaylen states. 
However, for Camryn's dress of choice, she considered a unique color.  
"I saw someone wear it last year and wanted to wear it for my senior prom," she says.  
Every student has a different price range when they go looking for their outfit. Some may spend up to $800 or more, while others buy it off of their friends for $200 or less! 
"It was a used dress, so it was only $150," Camryn says. 
Jaylen got lucky with the dress prices. "It was $100 and my papaw bought it for me," Jaylen said. 
Some students decide to just go with their friends, while others go with a date. Camryn and Jaylen both have a date. Jaylen and her date went out and picked out her dress together so that they could match. Camryn and her date planned to match as well. 
"It was originally the plan to match," Camryn says.
Congratulations to Camryn and Jaylen for completing task one of prom which may be the most important because everyone always remembers the dress.