Looking Forward to Spring Break Trips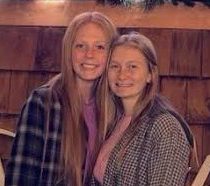 Spring break is quickly approaching and some students are going on affordable trips during the break. Students will use the break to sit back and relax before the last few weeks of school. 
Senior Heidi West will use the week-long break to visit her aunt in Fayetteville, North Carolina. "I never really get to see my aunt because she is in the Navy and this is a good opportunity to spend some time with her," Heidi said.
Heidi has never been to North Carolina before and is excited to see new places. "I am looking forward to visiting the Cape Fear Botanical Garden since I really like flowers," Heidi said.
Heidi enjoys going to the beach but she is not sure the water will be very warm since it is not summer. "If the water is cold then I'm not going to get in the water, but instead just tan the whole time we are at the beach," Heidi said.
Staying with her aunt for the week will allow Heidi to save some money for college and other expenses. "Since my aunt has her own place in North Carolina she said that me and my friends could come down for the week, which means that we would only have to pay for gas and food for the week," Heidi said. 
Senior Kaiden Hall will spend spring break hanging out with his friends in Destin, Florida. "I am looking forward to this trip, I have been counting down the days since January," Kaiden said.
While in Destin, Kaiden would like to go deep-sea fishing. "I went deep sea fishing when I was in middle school and I caught a shark and I would like to do it again and see if I could catch another shark," Kaiden said.
Kaiden's parents along with his friend's parents are splitting the cost to stay in a beach house for the week."With everyone that is going down it's not very expensive for everyone to go especially if we eat in for most of the week," Kaiden said.
Kaiden looks to have a relaxing spring break with his friends. "One place I am excited about going to is McGuire's Irish pub. Apparently when you walk in there are one dollar bills all over the restaurant and I think it will be really cool to see," Kaiden said. 
Junior Rylie Homan is spending the week with her friend's family for spring break in Destin too. "I've been to Key West and Fort Lauderdale, but never to Destin so I'm excited to spend the week in a place I've never been before," Rylie said.
The panhandle of Florida is known for its clear waters and white sand beaches."I like clear water so that way I can see what else is in the water when I am in the water," Rylie said.
Destin has a surplus of seafood restaurants for tourists to try." I am looking forward to going to seafood restaurants because I like to eat fish, crab cakes, and shrimp," Rylie said. 
Spring break is a great time to spend with your friends and family, but make sure to stay safe during spring break.