A New Football League Gains New Fans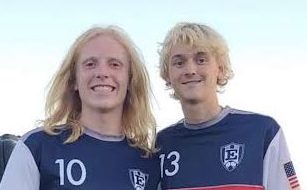 The XFL, a new football league similar to the NFL, is giving Edgewood students a new form of entertainment this winter.
Junior Liam Thornsberry is a long-time NFL fan that watches every Bengals game and any other games that he can catch in his spare time. Liam started watching the XFL for a specific player, an ex-Bengals player. 
"I've been watching the St. Louis BattleHawks, mostly because they have AJ McCarron as their quarterback," Liam said.
Liam believes they are one of the best teams in the league right now.
"I watched the comeback game they had, I forget who it was against but they looked as good as any team," Liam said.   
Liam also believes the XFL is a great opportunity for players to prove themself.
"The XFL lets players who maybe went undrafted for the NFL to show their skill and prove that they can play," Liam said. 
Junior Luke Jackson is also a long-time football fan, he's been watching the NFL since he was 10 years old and is very excited about the new league.
"I'm glad they added football to watch when the NFL is in the offseason," Luke said.  
He hasn't watched much yet but is eager to start paying more attention to the league.
"I don't have a favorite team or anything yet, I gotta watch some teams first to see who I like but I'm sure I'll figure it out soon," Luke said. 
Luke also likes the way the XFL runs its games.
"I think the new rules make it more interesting to watch, I like how the extra point and kickoff system work," Luke said.  
Dylan Stamper, a senior, has a different take on the new league.
"It's a cool idea, but there's no way they are gonna make enough money to stay in business," Dylan said.  
 He believes that the league rips off the NFL in certain aspects.
"The XFL is just a direct copy of the NFL with less talented players and coaches, I don't see myself paying any attention to the league unless they do something major," Dylan said.