Knocking Down Records and Pins
The bowling team saw a lot of success this season in part with the help of junior Michael Marts. Michael's impressive season took him all the way to the OHSAA District Bowling Championships, where he would fall short of moving on and qualifying for the OHSAA State Bowling Tournament. 
Michael is the first district qualifier in bowling since 2017. "[It] feels great just to know the hard work I've put in is paying off," Marts said. "It means the world." 
Not only did Michael qualify for districts, but he also set some new school records. Some of these records include the highest game (268 pins) best since 2015, the highest series (457 pins) best since 2017, the highest average in a year (187.6) best since 2018, and second all-time at Edgewood in pins in a season (including postseason) with 8,222. Michael also made first-team all-conference.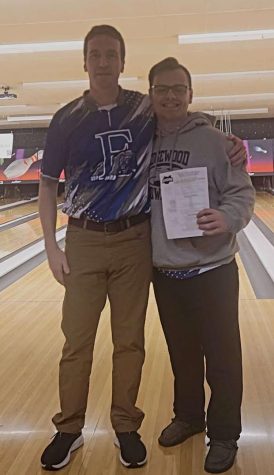 Michael wasn't the only bowler putting in the hard work this season. Sophomore teammate Trent Stewart looked up to Michael and his leadership skills this season.
"[Michael is an] outgoing leader and dedicated," Trent said.
Trent applauds Michael's work ethic and dedication to the team all season.
"It feels great because you know you have a good teammate that always wants to be there," Trent said. 
Michael's dedication wasn't only seen by his teammates. Coach Matt Witte was excited about Michael's season too.
"It is always satisfying to have someone achieve so much, but it is more satisfying to see my bowlers turn bowling into their passion," Witte said.
Michael's level of dedication to the team impressed his coach.
"We can only practice twice a week but Michael practiced every day he could on our off days," Witte said. "He would travel to the bowling alley we were going to travel to next and he would practice there."
Michael will be entering his senior season and third year of bowling next season and has goals of becoming better and more of a role model to his underclassmen teammates. Congratulations Michael on an incredible season!