Meet Our New Superintendent!
The Board of Education unanimously approved the appointment of Kelly Spivey as superintendent on Tuesday, January 31.
Spivey was very happy to see the board's unanimous vote.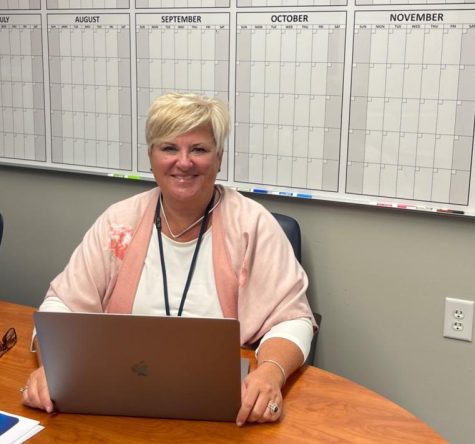 "I was very moved by that vote of confidence and I'm just looking forward to moving forward," Spivey said.
Spivey was retired when she was offered the position, as she believes it's "the younger people's turn." 
"It's not like I was looking for a job," Spivey said. "But Mr. Fussnecker and I have worked together for years, he's a friend of mine, and so when he asked me to help out I was like 'sure, I'll come and help.'"
During her retirement, Spivey bought a house in Florida to be closer to her mom. While there, she spent a lot of time on the beach.
"That was a hobby, but those days are going to be behind me for a while," Spivey said.
Despite being retired, she continued to do work in Ohio.
"I would spend two weeks of every month, the first two weeks of every month in Florida, and then the last two weeks I did professional development for superintendents and administrators and teachers in southwest Ohio," Spivey said. "So I've always kinda lived between the two."
Spivey has been involved with education for over 30 years, holding many leadership roles. Prior to this latest appointment, she was superintendent at Talawanda Schools, held an interim position at Huber Heights Schools, and worked in professional development in surrounding schools. 
Jumping into the position halfway through the school year was not a challenge for Spivey. 
"[I] worked with, like I said, 33 superintendents during COVID and listened to all their celebrations and what they were struggling with so I felt like I was never really out of it," Spivey said.
As the new superintendent, Spivey has come up with some goals she wants to accomplish.
"I'm seeing a lot of things to do, but that's just my personality," Spivey said. 
"
I think it's the community's job to define what they want school to look like for their students"
— Kelly Spivey
The most important goal Spivey has is fiscal solvency, which is the ability of a company to meet its long-term debt and financial obligations. Back in December, the board voted for a 1% earned income tax which will cause Edgewood to go on the levy in May. Despite these decisions being made before Spivey was hired, she feels prepared to handle this situation. 
"To come into a school district that you're not experienced in and then to have to face people you really don't know and ask them for money, is not typically your favorite thing to do," Spivey said. "But my past experience in education provides that understanding of just how budgets and spending are created." 
Spivey wants any negative effects from the levy to stay far away from students, classrooms, and their activities. 
"I'm all about student learning and student success and that comes in a variety of ways," Spivey said. "It's not just in the classroom, it's outside the classroom."
Spivey also wants to increase engagement with the community, as she believes the community has an equally important role.
"I think it's the community's job to define what they want school to look like for their students," Spivey said.
Something she has done before and would love to implement at EHS is a student advisory committee, where she meets once a quarter with four students from each grade. 
"I would talk to them about different issues in the district and they would give me input and I think it's such fresh and true information and I'm looking forward to doing that," Spivey said. 
She hopes to use the information she gathers from this committee to make students successful and comfortable at school. 
"I think you guys deserve even more things than you're getting," Spivey said. 
When Spivey is not working, she can be found reading or spending time outside. She also enjoys spending time with her four grandchildren. 
"I miss them if I'm not with them," Spivey said. "Like if a week goes by, that's too long."
Spivey feels ready to hit the ground running as the new superintendent.
"I just see some work that we need to do and I'm ready to do it," Spivey said. "I'm just excited."