There's No Business Like Shoe Business!
The shoe business is booming for one Edgewood student. Senior Peyton Smith has his own shoe business called "soleswithsmitty". He started "soleswithsmitty" in June of 2022 to continue his passion for shoes. 
Peyton wanted to start the business to start saving up money for college, "I always collected shoes and wanted to make extra money aside from my job. So I decided to sell some of my old shoes to friends and eventually it expanded to people in the area," Peyton said. He has a total of 25 shoes in his shoe collection. "My favorite pair of shoes that I own is the Jordan 4 University Blue," Peyton said. Finding clients is the hardest part of starting a business, "I started an Instagram account with all the shoes I am selling, I post shoes that I am selling on Snapchat, and occasionally will post shoes I am selling on Facebook," Peyton said. He also buys shoes from other people and resells them, sometimes he will sell them for retail or lower depending on the condition of the shoe. "In the past 6 months I have made $861.39," Peyton said about how much he has profited from his shoe business.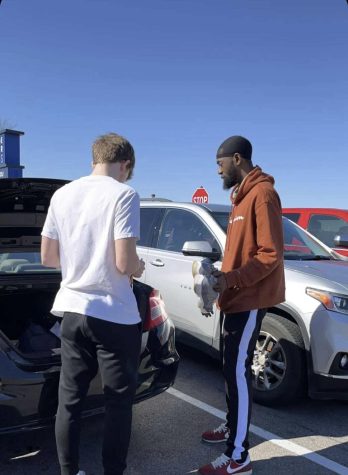 Senior Jaxon Sizemore is a big shoe fanatic and has fifteen pairs of shoes. " Collecting shoes is one of my favorite hobbies," Jaxon said. He found out about Peyton's business via Instagram and ended up buying a pair of shoes. " I bought the Jordan 11 Low Legends Blue. I recommend buying shoes from Peyton because he was very professional and he is a legit seller," Jaxon said. Jaxon not only bought shoes from soleswithsmitty but he sold a pair of shoes to the business. Buying shoes from other people or stores is how Peyton keeps his business going, " I sold Peyton a pair of my old dunks and he made me a good offer that I couldn't pass up," Jaxon said. 
Math teacher Mr.Boyle really enjoys wearing Pumas since they match his style the best. "I have ten pairs of shoes. My favorite pair of shoes is my black and white high top Puma shoes," Mr.Boyle said. Many teachers are unaware that some students have their own business. "I think students having their own business is awesome. The ability to chase your dream and passion seems so much more accessible now," Mr.Boyle said. There have been many different changes to advertisements since Mr.Boyle was a teenager buying shoes. "Advertisements when I was a teenager were commercials on the television. I remember the commercials with Michael Jordan, Spike Lee, Charles Barkley, and David Robinson. Nowadays, social media has a huge influence on what shoes teenagers buy now," Mr.Boyle said. Peyton would like any support to his growing business, Soleswithsmitty.