Track Season Preview
Returning track athlete sophomore Maggie Stamper tells what it takes to be in track, what the season may look like, and how to prepare for the upcoming 2023 track events.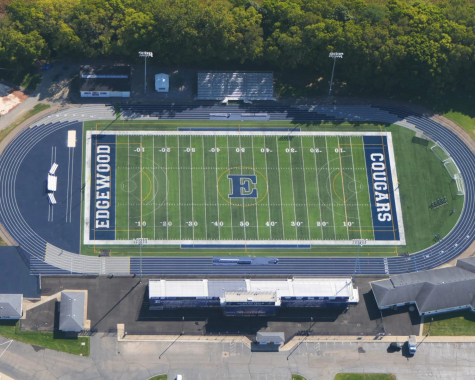 Once March arrives there will be practices from 3:10-4:30 p.m. after school every day and meets are a couple of times a week usually on Wednesdays. Coaches, like track coach Mike Hendel, are looking for ways to get their team to show up for more workouts and conditioning.
"After each race, we keep their time or distance," Mr. Hendel said. "We encourage them to break their previous time or distance. We call that their P.R. (personal record). This allows them to give their best!" 
Many student-athletes want a starting position or they want to grow their muscles or just be the best. But what students may not realize is that showing up to all conditioning and workouts, mandatory or optional, shows your coach that you want a position and are dedicated to getting better
"You won't see results unless you work for it," Maggie said. 
Giving the body the nutrition that it needs can boost an athlete's energy, help them not get tired or exhausted, and also keep them in good shape.
"Drinking plenty of water and also eating a healthy amount of food is very important because this sport is very physically demanding," Maggie says. 
By doing this, athletes are keeping their bodies healthy by regulating their body temperature, lubricating the joints, and keeping the blood circulation flowing.
Coaches look for attitude, behavior, and performance in an athlete and when an athlete does not do these things correctly there are normally consequences that come with that.
"If I see or hear of an athlete grades, behavior, or not giving a 100 percent, I will take them off to the side and give them a talk," Mr. Hendel said. "We never address the bad situations in front of the group."
To help improve an athlete's performance it is important for the coach(s) to praise the athlete when doing something good or if they are working on a new skill and getting close to getting it down.
"When they do good, I give them praise in front of the team and tell them what they did in order [to] get the praise," Mr. Hendel said. 
Student-athletes can have a lot of stress put on them because they have to juggle school work, friends/family, and other hobbies they are involved in. 
"Difficulties I face personally is juggling school with track and the other activities I'm involved in," Maggie says. 
One method to help juggle different activities is to plan the day in advance. For example, write what time school ends. Then, write when the activity or club practice time is. This should show what time is available to do homework or other needed accomplishments. This method will help students stay organized and be more successful with juggling sports and other curricular activities. 
Maggie is looking forward to the start of track season.
"I'm most excited to spend time with my teammates and being able to run together, it's like therapy!" Maggie said