Welcome To National Honor Society!
The EHS chapter of the National Honor Society inducted 30 new members on Monday, February, 6. This year's induction was run by all the current members and the counselors, Ms. Saylor and Mrs. Cottingim. 
This year, the current members had to write a little paragraph about the new inductee that was chosen for them to present at the induction. Students must work incredibly hard to even relatively have the position they currently possess. Along with the responsibility and overall maturity you need to possess to be in this group, there are four pillars that make up the National Honors Society as a whole: service, character, scholarship, and citizenship. Hailey Allen, Jessica Moore, Ashlee Sizemore, and Ashlyn Hill discussed each of those pillars.  
New inductee junior Luke Halsey felt differing emotions before the ceremony. "Going into the induction I felt kind of nervous but excited," Luke says.
Jayci Geisler, a senior and current member, had a different sort of role this year and was highly nervous to present the new inductee she spoke for. "I was also excited for the new inductees and that they get to have this feeling I felt after all of the hard work gets put in," Jayci says.
These students have worked so incredibly hard to get to the moment that feels like it's over in a blink of an eye.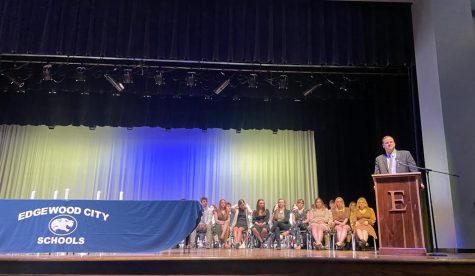 After the induction, everyone's nerves in the room finally settled. With that accomplished feeling, comes the appreciation for the biggest reason why these students push so hard. Jayci, who has volunteered so much and has worked so hard on keeping a great GPA, talked about her biggest pushing factor for all of this. "My biggest inspiration has been to make myself, and my family proud," she said. "I feel like being a part of the NHS is a very big deal…I know my parents were really proud of me when I got inducted so they really help keep me going."
Newest inductee Luke shares who motivates him most."My mom has been my biggest inspiration, she has been in the corner supporting me since day one," he says. "Everything I have achieved was because of her pushing me to be my best."
These students push themselves to the best of their ability. They have worked so hard just to be in this position they are in.