Shelby Brehm Leather Company
Shelby Brehm is a seventeen-year-old trying to create a successful business while balancing a volleyball coaching job and being a full-time student. 
Doing leather work is a fascinating hobby that is not heard of often. Shelby Brehm wants to expand her hobby into her career in the future.  She wants to make her hobby a career eventually. Shelby states, "I want to get a business management degree through Miami Regionals and then work to get enough money to open a place and start my own business." 
 With school and volleyball. Shelby has kept her passion for her business, but time isn't on her side. "I have honestly fallen off being consistent with the business partly because it's been really hard to juggle it all, but I know right now school and volleyball are my biggest priorities, and that leather will always be there. I can put my 100% into it at some point," she says.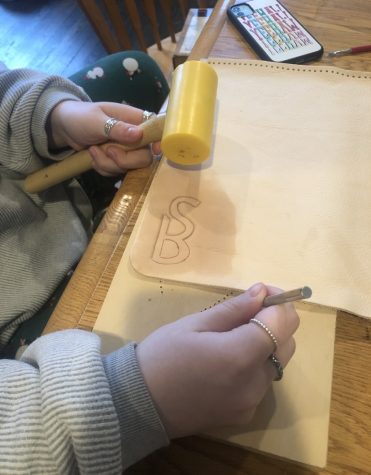 Shelby's dad Mark Brehm and mom Tuesday Brehm, are supportive of Shelby's business journey. Especially since both parents are starting a small business as well. "Tuesday is a part-time vintage seller, so she is always asking Shelby for advice. Same with myself in our fishing lure-making company. Shelby helps out with that business also and has gotten involved in designing and making our merch for Pakrat Lures," says Mark.  
Shelby started her business from almost nothing and fell in love with it. She started this hobby with a couple of scraps just laying around.  "I was bored in quarantine, and my dad had previously done some leather work, so he had all the supplies. So I started creating things just to try it out," she says.  
Mark agrees that Shelby can do anything that she puts her mind to.  "I think she should and will succeed at it. She just needs time to get things going," he says.  
Shelby wants to inspire young people like her as a person starting from nothing. "I think that anyone should start whatever they want. We only live once, so send it," Shelby concludes.