New Natural Science Center Opens For Butler Tech Students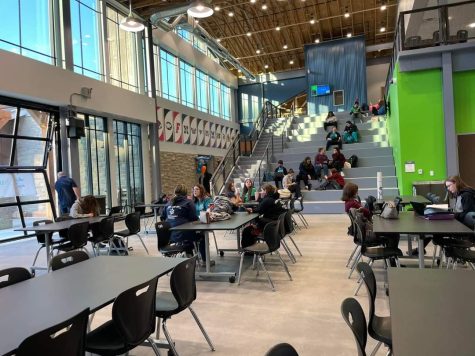 The new Butler Tech Natural Science Center (NSC) located in Monroe opened for students on Monday, October 31th after 17 long months of construction. 
The new building has multiple new upgrades and opportunities for the students to explore. Butler Tech Public Relations Coordinator AJ Huff says, "The students are learning in a state-of-the-art facility that has incredible technology as well as features that allow the outside in. For example, all of the ground-level classrooms have large garage doors on both sides. This means that if all doors are open, the bottom floor is wide-open from one side to the other. This also allows easy access to large animals into the space." Huff adds, "The benefits to the students are endless with the new technology and space to learn in a space that brings the animals and environment inside."
It allows students to be able to better connect with others and have a change in the environment. Vanessa Saiz, a senior in the veterinarian science program at Butler Tech, says, "Before the new building everyone was on separate days, we would call it Monday, Wednesday lab kids and Tuesday, Thursday lab kids so everyone on the other days we didn't know. And now that we are all on the same campus, everyone knows everyone and it's very nice… Having to be in the basement of the School of the Arts campus for so long, we really needed some sunlight and windows in our campus." Saiz says, "Everyone is so happy we have sunlight, and we can see people we haven't seen in months because we were in two separate buildings."
This facility not only allows more room for the current programs but will also expand for new programs in the future.  "As a district, we are excited that this will allow for the new Green Engineering program. This new facility will also allow us to increase capacity and serve more students," says Huff. Green Engineering will integrate agriculture and technology to help students solve real world problems. 
The NSC is open to those who are thinking about joining the programs that are available for that building. "If you're interested in veterinary science, equine science, or green engineering. This is the campus for you from the amazing academic teachers to our amazing lab teachers this campus is so welcoming and close, that everyone knows everyone," Saiz said.