Round 2: Playoff Pregame
The Edgewood Cougars will finally be getting their rematch with the Piqua Indians
The Edgewood Cougars are continuing on into week 12 and round two of the OHSAA playoffs. Edgewood will take on the Piqua Indians, a team from the Miami Valley League (MVL), this Friday night at Kumler Field at 7:00 PM. So far, many players have stepped up on the field during the Cougars' playoff run.  
#85, Evan Swartz, tight end and linebacker, is one such player. A senior, Swartz is listed as 6'2" and 190 lbs. Swartz has 85 tackles so far this season, 22 were solo. He also has 134 yards receiving and 1 touchdown. 
Sophomore, Xander Douglass, #6, has also stepped up to lead. A defensive back, Douglass has had 31 tackles and 1 interception. 
Seniors Mason Green, #59, and Jordan Sousa, #67, have shown up as well. Sousa has 7 tackles and Green has 20 this season. 
Clay Halsey, a junior, has had 51 yards rushing on 14 attempts and 1 touchdown as a fullback. Halsey has also had 23 tackles and 3 sacks on defense. He is wearing #21.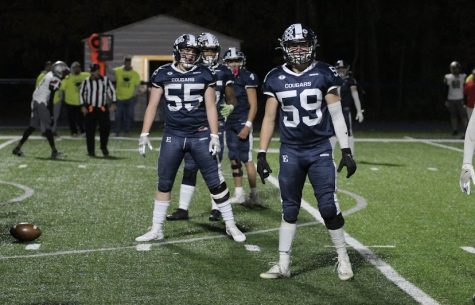 Opposing Edgewood, Piqua's quarterback is #7, Brady Ouhl, a 6'1" senior. Ouhl has a pass completion percentage of 65.5% with 97 of 147 attempted passes being completed. Ouhl has thrown for 18 touchdowns and 2 interceptions this season. 
Indians wide receiver, #3, Dre'Sean Roberts has 504 yards receiving and 6 touchdowns. As a DB, Roberts has also had 31 tackles, all of which were solo, as well as 3 interceptions for a total of 19 yards. 
Leading the Indians rushing attack is Ky Warner, #5. With 981 yards on 152 attempts, Warner has scored 15 touchdowns. On defense, all of his 16 tackles have been solo and he has had 1 interception. 
Come out to support your Cougars in this epic rematch to see which team will be moving on through the playoffs!
The Den theme is "Business Casual/ESPN"! Go Cougs!