Benner's Been Busy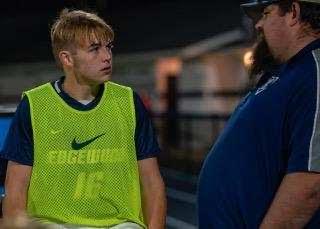 Ashton Benner is a senior at Edgewood High School. He is juggling soccer, choraliers, AP classes, and his job. 
Ashton is on the varsity soccer team and has practice every day after school for about two hours. He says, "I've been playing soccer for about 12-13 years now, I just always loved the sport." 
Ashton likes to be challenged and not just in sports. He says, "As good as I am at academics, it's not my favorite thing." Although, he works super hard to succeed in his classes. He takes AP Stats, AP Spanish and AP English literature. Ashton chose these classes because, "For English, to get the college credits. For stats, I like math so I wanted to see if there was any career in college. I also want to get my seal of biliteracy for Spanish." He does all his classes for a purpose, to either get college credits or to get a seal for his diploma.
"I will be going to college, not sure what I'll be majoring in yet, but hopefully go to college, play soccer, and be in choir or something." says Ashton. Ashton is looking for a small sports minded school because he loves sports. "Ohio university and Mount Saint Joseph", these two schools are so far his top picks for colleges. He picked these colleges to start off with because he said, the atmosphere was just his liking. All the people were welcoming and kind to him.
Ashton has done choraliers for two years now and he already likes this upcoming season so far. Choraliers and soccer are his only sports he is doing his senior year. Even though there are no Choraliers in college, Ashton still wants to be able to participate in a choir. 
On top of soccer, choraliers and academics, Ashton works at Bob Evans on Sundays. He likes his job because the people he works with are super nice and he enjoys it. He does want a break every once in a while but for the most part he says it's fun. 
To be doing a lot of homework, practice, and work, Ashton must be under pressure at times. He says, "There have been several different outcomes, I feel like I've done fairly well in choraliers. In soccer, there have been times where I did not perform as well as I should have and then there are times I do everything right, and It feels great when you do everything right". Even Ashton gets overwhelmed with everything happening but he tries his very best all the time. "Just don't procrastinate. I've done that a lot and it really just screws me over all the time. Also, don't be scared to do or join anything. Have fun and make good decisions." That was Ashtons advice for underclassmen to succeed in school and in life. Best wishes to Ashton Benner as he finishes the school year and heads to college.