Cool Cougar Coffee!
After being shut down due to the COVID-19 outbreak, the Cougar Coffee Cart is back in business!
In late February, the Cougar Coffee Cart was added to our school's mornings. Every morning from when students first arrive at school through 2nd period, they have the chance to buy a coffee of their choice. Students can add a variety of creamer flavors, or maybe get a hot chocolate or cappuccino, all for $1.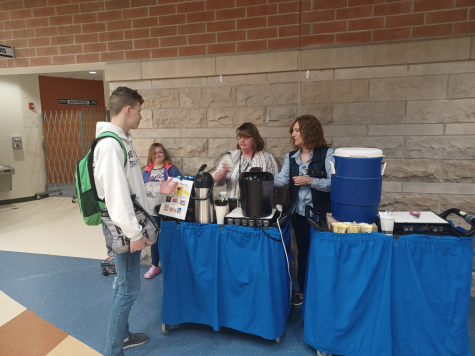 Ms. Dainton, along with Ms. Collins, another worker at the Cougar Coffee Cart, came up with the idea to start a coffee cart. "Years ago, I wrote a grant through Donors Choose [an online website for starting fundraisers] to obtain supplies and materials to start a coffee cart," says Ms. Dainton. During the first year, the purpose of the funds raised from the cart was to aid in getting kids to prom who would otherwise not be able to go. "We were able to make sure everyone had something fancy to wear, went out for dinner, had a party shuttle, and attended together," she says. Shortly after this first year of success, the Cougar Coffee Cart was forced to close down after COVID-19 shut down the school. When the schools shut down, there was no longer a way to continue with the cart or the fundraiser. But this year, the Cougar Coffee Cart was given the opportunity to start again. "This year, Mr. Geygan approached us about re-opening," says Ms. Dainton. The Cougar Coffee Cart is planning to try something new this year. "We will soon be offering delivery to teachers, upon request, throughout the school day," she states. "When the weather shifts, we will offer iced coffee as well!" With this new addition, teachers can look forward to not having to leave their own classroom to have their energy boost.