Answer: "What Is Academic Team?"
The academic team got 3rd place at their final competition at Harrison School District on March 2nd, 2022. Mrs. Steele, a biology teacher at EHS, coaches the academic team. Junior Aaron Castro is the team captain.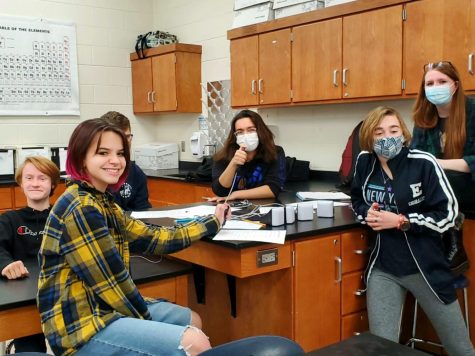 Mrs. Steele started coaching for the academic team nine years ago. "I did it for about seven years, and then I took a break for a couple of years," she said. During that break, Mrs. Groff, the Spanish teacher, coached until Mrs. Steele returned to coaching last year. The academic team has roughly 18 kids. The team meets multiple times a week in Mrs. Steele's classroom. "We go through packets that have questions on various topics like government, world history, American History, literature, science, all that kind of stuff," Mrs. Steele says. At meetings, the team will also practice how a competition runs to prepare them for real competitions. Aaron Castro, the captain of the academic team, has been on the team since freshman year. "I just really enjoy it and learn a lot of useless knowledge that I didn't know before," he says. The way the academic team works is similar to Jeopardy, the American game show. " You have buzzers and you hear a question, and whenever you know the answer you buzz in," says Aaron. For students who are interested in trying out, Aaron strongly encourages it. "Try out, it doesn't hurt if you think that you would like it and you think that you would be good at it," says Aaron. Aaron noticed that the number of students who try out has increased since his freshman year, so trying out has become a lot more competitive. "Don't be discouraged if you don't make it on, there's always next year" he says. The academic team hopes to continue to grow and build relationships with the community.