Kaden Davidson's Journey to College Baseball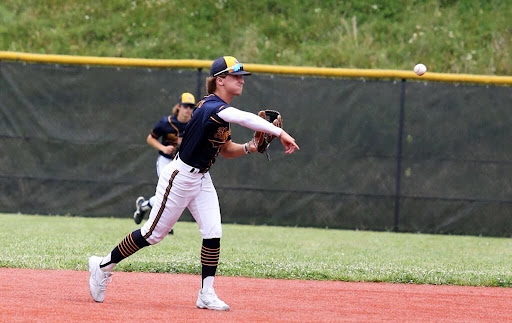 College is a big deal for the majority of the seniors at Edgewood. Not a lot of students will commit to a certain college for the sport they are currently playing. Today seniors are still on the search or the look on what school they will like to attend. 
Kaden Davidson, senior, plays varsity baseball. Sports were his thing growing up, "I was playing baseball, football and basketball". One of these sports he played for a very short amount of time , "I only played basketball up until the 3rd grade" said Kaden. When Kaden was playing all of these sports there was one thing that I liked about it, "I made a lot of new friends while playing." Watching television when he was little, the idea crossed his mind, " the college baseball teams made me want to think about playing and pursuing my dream of playing college baseball." Since then he's said that sport has been his passion, " I've been playing for 14 years now and I can't wait to keep going" said Kaden. Kaden has had a few offers including : "Mount St Joe, Wittenberg University, Mount Vernon Nazarene University and Wright state lake University." The college that he will be attending and he is committed to is "Wright state lake University". This college isn't far from here, just about 2 hours away , also it is in Ohio. If Kaden didn't play baseball or just pursue the sport he is playing today, "football would have been my choice to keep playing because I miss it" said Kaden. Kaden not only had support from friends and coaches but also his family.  "My mom is my biggest supporter even with all my offers I got." 
The MLB is the picture for college athletes playing baseball, but for Kaden it will be a "NO!", "I wanted to play for the MLB when I was younger but for me I don't think so," said Kaden. "Some say that baseball can be hard to understand to play but for me it's very fun and bonding with my teammates makes it even better." Baseball is a spring sport that can be difficult for young men to continue , but Davidison will be putting out a great example.