Football Team Brings Home SWOC Championship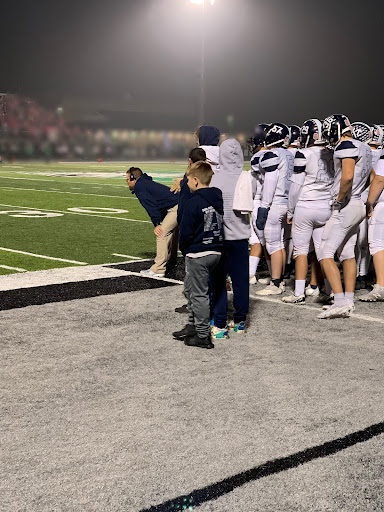 After another SWOC championship, the football team has won 4 SWOC titles since 2016.  Edgewood defeated Harrison, 48-13. Edgewood finished with a 7-2 record overall and 5-0 in conference play. 
Head Coach, Scott Clemmons, was very pleased with the team's performance and how hard they played throughout the game. " Jay Dailey's physicality running the ball, Tavione Crosby's big touchdown run, and the defense holding the Harrison offense to a field goal on the first drive," were some of the outstanding players that allowed the cougars to win the game, said Clemmons. " Holding their offense to field goals and our offense scoring on 7 straight possessions," were the keys to the game, said Clemmons.  The offensive line has played well and been a huge factor in the success the football team is having. " It's good to see the line play well since they don't always get recognition for their play and they look to dominate the opposing teams every play," said Clemmons. The football team started 0-2, they have found their rhythm and turned the season around to go out on a winning note. " The young men and the coaches worked hard to turn the season around and the players understood not to miss out on opportunities," said Clemmons. The defense in the past four games has held teams to under 14 points, " They have made a huge impact on this season, setting up our offense for success and making the opponent work for every yard they get," said Clemmons. 
Varsity football player, Evan Swartz, was very pleased with the win. " After a great first drive at the start of the game for Harrison, our defense was able to hold them to a field goal, and our offense drove down the field and scored. I think that set the tone for the game," this sequence was a turning point in the game, said Swartz. Winning the line of scrimmage against the Harrison defense made the offense flow,  "  It allows us to be confident about ourselves to run the ball. After all, we do have to be able to run the ball with our style of offense," said Swartz. Tavionnes' big run left a big impact on the game and really put an end to the hopes of Harrison having a comeback, " It was huge, that run made all the momentum shift our way coming out after the half, " said Swartz. The football team will celebrate the SWOC championship this week, but their focus will be to use this momentum from the season and make a run in the playoffs.