Reds Opening Day Looked Different
April 9, 2021
Governor Mike DeWine is allowing fans to attend Reds games this year at the Great American Ball Park. Even though games at the start of the season will be at 30% capacity (12,000-13,000 fans), Reds fans and baseball enthusiasts are jumping on the chance to claim tickets for games this season after no one was able to go to a game in 2020 due to COVID-19.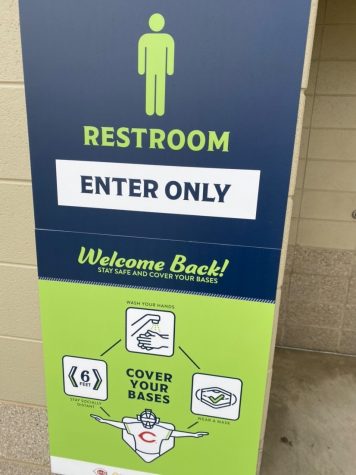 Freshman Michael Marts is a season ticket holder for the Reds. He went to Opening Day to cheer on the Reds on Thursday, April 1. Michael was social-distancing and wearing a mask at the game. However, he said, "I am a firm believer in masks, but while outside I believe you should have the choice." 
Although wearing a mask is safe at ballgames, it can pose a big discomfort for fans in the summer, bringing up complaints from many fans. The average ballgame is around three hours and the weather can get up to the high 90's in the summer. Some fans are unsure if they will go this year due to the mask mandate at the stadium, especially if precautionary measures aren't taken to ensure visitors' comfort.
"[They should] have free water stations to help fans," says PE teacher Brian Caudill. Mr. Caudill has been a Reds fan since he was a kid: "I usually go to 7-8 games a year and stay in a suite."
Both Mr. Caudill and Michael are sure to catch a Reds ballgame in the stands this season, and Mr. Caudill thinks super fans will attend despite the mask mandate: "If you're a big fan and you want to see baseball, you'll go [to a game]." 
People anticipate that as the COVID-19 vaccine takes effect, stadiums will allow more fans in towards the end of the season.