Mr. Korty to the Super Bowl
One of Edgewood's own Mr. Korty attended Super Bowl 56 on February 13th.This opportunity doesn't happen to just anyone. Being a Bengals fan, he got to take up all the memories he got from that day . 
Mr. Korty is a coach and a teacher here at Edgewood. Korty attended Super Bowl 56 with the Cincinnati Bengals playing the Los Angeles Rams. Being a Bengal's fan this season was significant since the last time they were in the super bowl was over 30 years ago, back in 1988. Korty's dad passed the season tickets down to him,"Since 1981 my dad has had them and he actually went to the last Super Bowl appearance for Cincinnati when I was 6 years old," said Korty.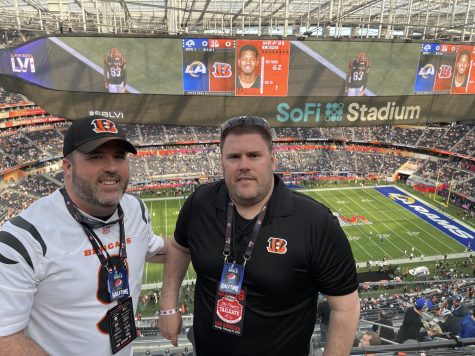 Mr. Clemmon's and Mr. Korty are close friends and they coach football together. "He's the biggest Bengals fan in NFL history," said Mr. Clemmons. Korty's friends always say that even though they might not be fans themselves this really meant something to him. 
The Super Bowl is a great experience and a rare opportunity. "I took a very close friend of mine because I wanted him to enjoy this as much as I did". Parking can be very expensive compared to just a normal sunday home game for any NFL team, korty says, "I got very good deal that wasn't very far from the stadium we walked about 1.7 miles but it worked out at then end of the game because the traffic cleared up the time i got to my car." Mr. Korty says that his most memorable moment was, "Just the crowd and seeing all the fans cheering on the teams that they love all in one building".
Korty hopes to attend another Super Bowl again if the Bengals make it that far. "The tickets weren't cheap but again being a ticket holder, it helped so much," said Korty. The Super Bowl had fans from both sides on their feet wanting to see a great game.